Winnie Cooper is all grown up and looking all kinds of hot! Sexy Danica McKellar is staring in the current season of Dancing with the Stars and is doing a fine job of getting our hearts racing when she shows up for rehearsals wearing a pair of skin tight shorts and a half shirt. That booty brings a whole new meaning to the wonder years.  You can check Danica out on DWTS every Monday night to see Danica shake her moneymaker live.
In the meantime enjoy her in these hot tights showing us what you likely won't see on the TV show.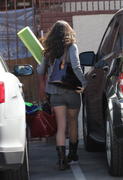 Check out the rest of Danica's hot pics below.
Kendall Jenner in a bikini on the beach in Malibu tossing around a Frisbee with a friend. Reality star, budding model, and sister of Kim, Kendall Jenner hit the beach for a little fun in the sun with one of her friends. Her body looks great. The question is will she follow in her big sis's footsteps and make a sextape of her own?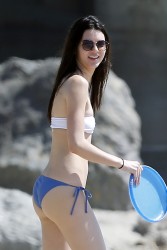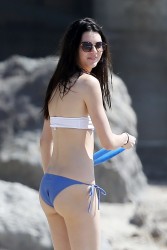 See the rest of Kendall's Jenner's bootytastic bikini shots below.
Shailene Woodley's huge new movie Divergent opens this weekend at the box office and is expected to be huge. We thought we would celebrate by checking out some of her past, sexy roles. There is no debating that Shailene is drop dead gorgeous and with a Golden Globe nomination and some amazing movies like The Descendants (2011) under her belt she is also very talented. What you may not know is that she has been topless in a movie.
Shailene Woodley is topless in The Spectacular Now (2013) where she has a sexy love scene that starts out with her in her bra and panties sitting on the bed. As things heat up she ends up under the guy and we get a quick view of her nipples as the action unfolds. Below are some well-times screen caps of the topless nipple action in question. We also added in a few shots of her showing off her tight body in a bikini in The Descendents.
Shailene's already incredible career is just starting to take off. Hopefully we will get to see much more of her in the future.
Enjoy more of her sexy and topless pics below!
The Tila Tequila sex tape is out and I have to give this girls some credit. When she does something she goes all the way. In the past she has released nude pics of herself and she has had a lesbian sex tape, but this new sex tape is of her and a guy and she gets her brains banged out. She also takes it up the butt and in the end she swallows the lucky guy's load. It is, by far, the most explicit celebrity sex tape I have seen in a long time. We get plenty of Tila and her hot body and a good amount of hardcore sex.
Vivid is releasing the tape and they also have Tila's previous lesbian sex tape as well as the Kim Kardashian tape and others. It is a pretty sweet deal, you get access to them all on this site. If you are a fan of Tila's or you just like seeing petite Asian girls with big tits and a great ass getting railed all over the bedroom you need to see this. It is Tila fame whoring at its best, but it is pretty damn hardcore and hot!
See the full Tila Tequila sex tape here.
Here are some screen caps from it and from her lesbian sex tape.
Lindsay Lohan's new movie The Canyon was just released. It was supposed to be her big come back and I will admit that it isn't as bad as you might expect it to be. The star of the show is Lindsay Lohan's tits. She is topless in several scenes and her boobs look fantastic. The movie is about an actress (played by Lindsay) who is involved with a low level producer (porn stud Jame Dean) and together they have a wild, crazy, sexually adventurous live that leads to some pretty insane moments. Lindsay bares her amazing boobies on several occasions and most of the time gives a pretty good performance.
See the rest of the Lindsay Lohan topless pictures after the jump.
For videos of all of Lindsay's topless scenes from this movie check out Mr. Skin, as always, he has every second of her on screen nudity including her wild foursome where she hooks up with another girl.

Read the rest of this entry »
Miranda Kerr was on set doing a bikini and swimwear photo shoot (which is sexy enough) when she had a little wardrobe malfunction and flashed her tits. Her perky little boobs popped out the top of her outfit and got a little fresh air. Based on how stiff her nipples quickly got, it appears that it was a little cold. In showing that Miranda is likely the coolest girl ever, she didn't get pissed off or mortified, she laughed and seemed to think it was funny. If that s the case, I would love to invite her over to have some laughs at my place.
Check out the rest of the Miranda Kerr topless pictures after the jump.
This never happens to me when I go to the park. Jessica Alba showed up to the park and decided to take off her jacket. While doing so she had a wardrobe malfunction that allowed her shirt to slide to the side and expose her bra. Normally, this wouldn't be a big deal, however today Jessica was wearing a sexy, completely see thru bra that exposed her nipple and gave everyone a full view of her amazing boobs. This bra is so sheer it leaves nothing to the imagination. For those who have wanted to know what Jessica looks like topless, now you know.
Jessica is working on a new Sin City movie so hopefully it will have her looking as sexy as the last one. If this boob peek/bra incident is any indication, she is looking as fine as always.
See all of the Jessica Alba see thru bra pictures after the jump.
It is official. The Farrah Abraham sex tape was released today by Vivid. That didn't take long. She just finalized the deal to sell it to them about a week ago. I guess they wanted to strike while the iron, or her ass, was still hot. For her part Farrah is still playing it up like it was a leaked personal tape even though she hired a pro porn star to bang her. She has been making the rounds and staying in the public eye and trying to act like she didn't really want to do this, but it was her only real option as a young mom.
I don't care why Farrah Abraham made a sex tape. What I do care about is that she does have a banging body and in this tape she gets fucked so hard she squirts and she takes it right in the ass. Naming the video "Farrah Superstar: Backdoor Teen Mom"  was 100% accurate.
After the jump I have more screenshots from the video for you as well as some shots of Farrah taking a pole dancing class. Maybe her next career move will be to feature dance at a strip club in Las Vegas.
You can watch the full Farrah Abraham sex tape here on Vivid's site!
Teen Mom Farrah Abraham has a sex tape. She has been in the news a lot lately because she  got caught trying to sell her sex tape on the sly. She is trying to use the Kim Kardashian and Paris Hilton school of using a sex tape to get famous, but she got caught. Her first stupid mistake was shooting the tape with a well-known porstar stud James Deen. Then she tried to act like it didn't exist, then she acted like it did and she didn't want it to be released. All the while she was trying to negotiate to sell it. Finally the truth came out and with the world realizing that she shot the tape in an effort to make money she owned up to it and got a deal with Vivid. She even took her dad and her daughter to the Vivid offices to negotiate the deal. Dad must be proud! It must have worked because reports are that she got $1.5 million for it so it must be hot!
Regardless of the drama surrounding it, Farrah Abraham has a great body and these leaked screen shots from the tape show that she looks great in it. The title will be Farrah Superstar: Teen Mom Backdoor. This would lead you to believe she does some anal. This teen mom knows how to make that money!
Check out all of the leaked Farrah Abraham sex tape screen caps below
Over the weekend Maria Menounos slipped into a very small bikini and hit the beach to play around with that guy from Dancing with the Stars and former NFL player Terrell Owens. She looked freaking amazing in the bikini. Her body is trim, fit and built for all kinds of fun. Maria seems to have an issue with bikinis though because the last time she hit the beach her bikini slipped to the side and we all got a hot little pussy slip. This time her bikini got loose and we got a very good look at her sweet ass.
If she keeps this up Maria is going to force me to marry her Borat style. Until then enjoy the Maria Menounos bikini ass crack slip shots.